The Official Archives

This is your putrid pal, the Crypt Keeper…
…informing you that the Hamilton Company and I are once again rubbing scab-covered elbows to bring you three lavish editions of that grisly great trade hard back book recently released by St. Martin's Press based on my comics and TV show — Tales from the Crypt, the Official Archives!
Hamilton's editions contain the same cadaverous contents as the St. Martin's book; measuring 9" x 12", it is a full color, 256-page spectacular written by Digby Diehl, and containing 600 illustrations and photographs from my comics and TV show, as well as all of the original covers from Bill Gaines' EC horror comics, a history of the Gaines empire, and a complete filmography. But now, boys and ghouls, listen to what the hideous hackers of Hamilton have added: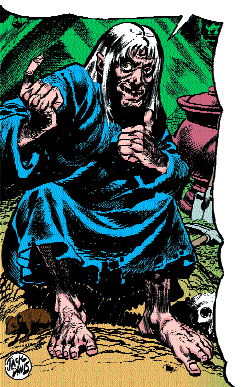 A Pricey Edition — bound in gold foil-stamped Skivertex (more durable than the trade edition chipboard and paper binding), contains a bookplate signed by EC principals Al Feldstein, Jack Davis, Al Williamson, Marie Severin, Joe Orlando, Johnny Craig, and George Evans. Available in four different revolting colors and limited to no more than 500 copies (but maybe less: remember the deadline!). $95
A Pricier Edition — also contains a frameable 8" x 10" photo of my television persona, hand-signed in gold ink, plus an added original, inked art signature of the genius behind MAD, Harvey Kurtzman, with the famous "little man." Hey! This guy is now deceased! You can't get his autograph! This edition is bound in simulated leather, limited to 200 copies…or less! $175
The Priciest Edition — same as above, except bound in expensive, real straight-from-the-corpse-to-you leather! 50 copies only. $300
Sure, these editions are expensive! Do you want real Hamilton quality in your tribute-to-me book or not?
Shpping Costs will depend on address and method of delivery.
© Bill Gaines Agent; Tales from the Crypt Holdings ORDERING INFORMATION
---