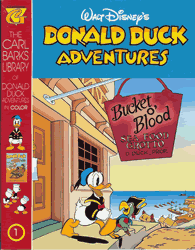 The Carl Barks Library
Donald Duck Adventures in Color Comic Albums

Large, magazine-size, heavy-stock, square-bound, full-color comic albums with new covers created from Carl Barks art. Each comes with a unique Trading Card. Prices are based on the number of copies in stock and also, in the case of early numbers, greater page counts and higher original cover prices.
Donald Duck Adventures in Color Comic Albums
A Complete Set of 25-Volume Sets is SOLD OUT: Only $725
(But, you can still buy most albums individually.)

All Donald Duck Adventures in Color albums are unopened, unread copies.