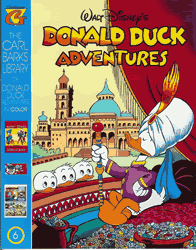 According to the 2002 Comic Book Price Guide #32, mint copies of the total original giveaways reprinted in Donald Duck Adventures in Color #6 would dictate a collector should have to pay approximately $10,400 for them. (that is, if they hadn't been certified, sealed in plastic by encapsulation -- or "slabbed" -- by CGC, which, of course, they would have been) and if they truly were in mint and if you didn't have to pay multiples of guide (which, of course, you would have). These are the famous Carl Barks giveaway comics reprinted in DDA#6:

"Maharajah Donald" from Boys' and Girls' March of Comics #4 (1947), is valued at $7,000 (also in the album is "The Peaceful Hills," a two-page back-up filler with Donald Duck trying unsuccessfully to take a peaceful afternoon hike in the hills).

"Donald Duck's Atom Bomb," a 1947 Cheerios pocket-sized giveaway (#Y-1), was permanently banned by Disney in the 1970's, not to be reprinted as originally drawn by Barks, its ending labeled by company executives as "mean spirited." [Donald's "atom bomb" only sputtered, but its radiation made peoples' hair fall out. On the next to the last page, Professor Molicule encourages Donald to make another bomb and rants enthusiastically, "Money! Money! Vast riches!" But Don's response is, "I've got a way picked out to make money -- and lots of, it!" In the last panel Donald and the boys display a sign over their booth that reads, "Professor Duck's Atomic Hair-Grower 'Will Grow Hair on Anything'." A sign below reads: "$1.00 a Bottle" ... and Donald happily racks up sales on the cash register. The new ending, however (forced on Gladstone), changed Donald's word balloon so he says, "No thanks, Professor! I've got more than money in mind!" The art was not altered, but the banner at the top of the booth now omits the word "Atomic" and the sign below is reworded to read: "Free Samples -- Growth Guaranteed!"]. For a mere reprint anthology, Disney's dictum to rewrite history seems to me to conflict with the definition and concept of what history actually is, wouldn't you think?

According to Robert M.Overstreet, this book in now worth $900 in mint (much too low, but who gives the Price Guide any new pricing information each year on rare Disney giveaways?).

Also in DDA #6 is the much-sought-after "Donald Duck Tells About Kites" (a part of Western Publishing's Kite FunBook series), which republished for the first time, we believe, the original Southern California Edison edition: plus a filler page with three new drawings by Carl Barks, that he did for the Pacific Gas and Electric version, substituting two old panels from the seventh page of the SCE. Overstreet says this is a $3,200 comic.


$15.00