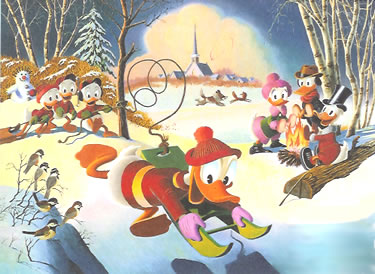 Character images (c) Disney Enterprises, Inc. are provided for infor mation purposes only and not for commercial reuse or reproduction.
Loosely based on the cover to Walt Disney's Comics & Stories 89 (published in February, 1948, and featuring just Donald Duck and nephews Huey, Dewey and Louie), Carl Barks' oil painting, Snow Fun, encompasses a wider field of vision and a different angle, and so - lo and behold! - it turns out that Daisy Duck, Gladstone Gander and Uncle Scrooge McDuck are observers to the boys' prank. As Donald takes off on his sled in one direction, their 1940s pet dog, a Saint Ber­nard named Bolivar, chases a fox across a frozen pond in the background.
Snow Fun is the sixteenth Walt Disney oil painting by Barks to be reproduced in the regular, full-size semi-annual and con­tinuing limited edition lithograph series. Printed by the Black Box in Chicago, in an image measuring 15" x 20" on 20 ½" x 25" paper, it is available in a Regular Edition of 345 copies, 100 Gold Plates and five (5) boxed sets of Progressive Proofs. 395 have been set aside for foreign editions.


Regular Edition Price for #11 and up $910 (available)
Regular Edition Price for #2-10, add 15% (available)
Regular Edition Price for #1, add 65% (sold)
Gold Plate Edition #11-100, add 50% (available)
Gold Plate Edition #2-10, add 65% (available)
Gold Plate Edtion #1, add 185% (sold)
Publishers and Printer's proofs, add 125% (available)
Artist Proofs, add 175% (sold)
Progressive Proofs, Special Editions and Foreign Editions, inquire. (available)