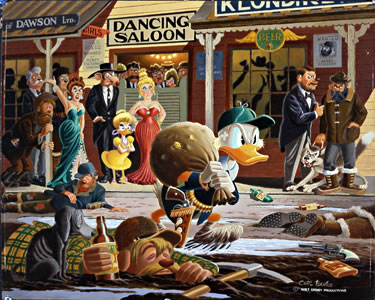 Character images (c) Disney Enterprises, Inc. are provided for infor mation purposes only and not for commercial reuse or reproduction.
Uncle Scrooge began his fortune in the Klondike during its famous gold rush days --,- digging precious metal from the frozen and unyielding earth. But unlike most of the others who moiled for gold, Scrooge bypassed the businesses that had cropped up to part "spending fools" from their money and elected instead to hoard his wealth. Nobody's Spending Fool is a full-size lithograph created from Carl Barks' renowned oil painting.
Nobody's Spending Fool, the twenty-fourth lighograph in an unmatched series of limited, full-size, signed and numbered prints produced by Another Rainbow, is taken from chronological Disney oil #81, painted by Carl Barks in mid-summer, 1974. It pictures Scrooge as a young miner, as he was in Dawson City in 1897 - exactly 100 years ago from the year of this release! (Note the bulletin board that has scawled on it, "Scrooge Go Home!" And, contrary to the popular beliefs of some, no one in fandom has been caricatured in the crowd on the sidewalk.
Nobody's Spending Fool has been produced in four North American editions. First, there are five (5) commercially released sets in a Progressive Proof Edition, each numbered" 1 of 5" (one of five). There are also a small number of Publisher Proof, Printer Proof, and Artist Proof progressives.
Regular Edition Price for #11 and up $960 (sold)
Regular Edition Price for #2-10, add 15% (available)
Regular Edition Price for #1, add 65% (available)
Gold Plate Edition #11-100, add 50% (sold)
Gold Plate Edition #2-10, add 65% (available)
Gold Plate Edtion #1, add 185% (sold)
Publishers and Printer's proofs, add 125% (available)
Artist Proofs, add 175% (sold)
Progressive Proofs, Special Editions and Foreign Editions, inquire. (available)