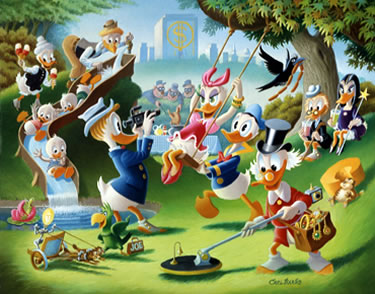 Character images (c) Disney Enterprises, Inc. are provided for infor mation purposes only and not for commercial reuse or reproduction.
Carl Barks' Holiday in Duckburg is probably the happiest oil painting ever done by the Old Duck Man!

Holiday in Duckburg is a gathering of the fowl townfolk in a city park. There are 21 characters in all (not counting the chicken being stolen by the Beagle Boys), containing several that weren't even in "A 1934 Be1chfire Runabout!" Besides Uncle Scrooge, Donald and nephews Huey, Dewey and Louie, Gladstone Gander and Daisy Duck are right up front. In the background are full figures of Gyro Gearloose, Grandma Duck and - well, surprise of surprises! - the rascally old Flintheart Glomgold and the devious sorceress Magica de Spell.

Holiday in Duckburg - printed in approximately 20 colors as a continuous-tone lithograph by the Black Box in Chicago-is available in a Regular Edition of 345 copies (100 copies for Japan and 50 for Finland have also been produced, but are not available in this market), 100 Gold Plates, and five (5) boxed sets of Progressive Proofs.
Regular Edition Price for #11 and up $975 (available)
Regular Edition Price for #2-10, add 15% (sold)
Regular Edition Price for #1, add 65% (available)
Gold Plate Edition #11-100, add 50% (sold)
Gold Plate Edition #2-10, add 65% (available)
Gold Plate Edtion #1, add 185% (sold)
Publishers and Printer's proofs, add 125% (available)
Artist Proofs, add 175% (sold)
Progressive Proofs, Special Editions and Foreign Editions, inquire. (available)