Carl Barks worked for The Calgary Eye-Opener, an adult humor magazine, years before he joined the Disney Studio. But a he also collaborated, in 1932, with Eye-Opener editor Ed Sumner to produce Coo-Coo, a less-risqué one-shot designed to test the newsstand potential for such a magazine.

Coo-Coo shows much of the burgeoning genius of Carl Barks, who created about one-third of the gags, done mostly in line and wash artwork. There never was a second issue, and the first must have been distributed in an extremely small quantity, as there is only one copy known to exist today.
We have created a facsimile edition of Coo-Coo, as faithful to the original as possible, in black and white with red spot color on the covers and centerfold.

The reprint of this extremely rare collector's item is a must for all Barks completists and is the perfect companion piece to Hamilton Comics' The Unexpurgated Carl Barks.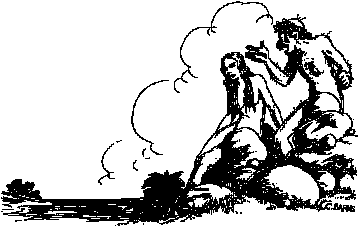 "Aw, Honey, why won't you go to the nudist ball? You look swell in garlands!"
© and ™ The Bruce Hamilton Company