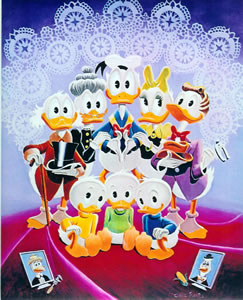 Character images (c) Disney Enterprises, Inc. are provided for infor mation purposes only and not for commercial reuse or reproduction.

Carl Barks worked over thirty years on Walt Disney films and comics, fashioning fantasies that would allow him to address serious issues. Donald Duck's small circle of acquaintances expanded into a neighborhood, then a city, and finally a kind of global village spanning history and time. At the core of this achievement lies the creation of a tight-knit and caring Duck Family he used first for a comic book cover (Duck Album Four Color 450, February 1953); second, in 1973, a fine art oil painting; third, in 1995, a truly unique, premium quality porcelain; and, fourth, in 1996, a miniature lithograph. The latter two variations of Lavender and Old Lace were released in limited editions signed by Barks. The eight anthropomorphic ducks most commonly associated with the artist's career are, standing left to right: Uncle Scrooge McDuck, money bin mogul, who began empire-building in the days when pick, shovel, and will power were the main requirements; Grandma Duck, matriarch of the duck clan, who represents Barks' fondness for the frontier spirit; Donald Duck, middle center, Disney's quacking clown, who, in his own way, is a pioneer and single parent to three rambunctious boys; Daisy Duck, unrelated to Donald -- as of now; and Gladstone Gander, first cousin to Donald, who, with his perfectly coiffed hair and insufferably charmed life, nonchalantly twirls a lucky horseshoe . Sitting, middle foreground, wearing yellow, green and blue turtleneck sweaters, are the nephews and grandnephews, Huey, Dewey and Louie.


Of all the oil paintings Carl Barks ever did, Lavender and Old Lace enjoys distinctions equaled by no other. In '73, when the Old Duck Man did this masterpiece, collectors labeled it the quintessential effort -- a perfect representation of the Donald Duck family! That's why, less than a decade later, Another Rainbow chose it to grace the slipcase of The Fine Art of Walt Disney's Donald Duck, a collection of 122 Disney paintings by Barks . Today, when anyone thinks of or sees the book, they recall the image of Lavender and Old Lace. Its fame did not stop there, however. It was also released as the most exquisite of several fine English bone china figurines, the most costly one, retailing for $15,500 each, severely limited to only 17 ever cast. (The figurine is prominently displayed in Walt Disney's Comics and Stories on the title page to issue #622, published in March 1988. Anyone purchasing the lithograph may request a free copy of this comic book. Others may order it while supplies last (See the Gladstone web pages.)
.

The art changed hands three times in the 1970s, finding its long-term, present home in an estate on the east coast. Another Rainbow sought to publish it as a large, full-size, limited-edition lithograph, but without the original to work from it wouldn't have achieved the quality reproduction necessary. The existing 10"x 8" color transparency, meanwhile, already on hand, was fully adequate to do a fine quality miniature print.


In the Fine Art book, Lavender and Old Lace is Plate 62, appears on pages 196 -197 as a 12"x 8 1/2" color reproduction, was Barks' 66th painting overall, his 28th of 33 done in 1973 (and a superior redoing of Family Portrait from earlier that year). In her essay, Barks historian Barbara Boatner described the painting as "a romantic, old-fashioned setting for a traditional family portrait, with Gyro Gearloose and Gus Goose included in tiny snapshots at the bottom corners of the painting … (and) it is scion Donald, rather than elder Scrooge, who is the central character in the group."


Boatner goes on to quote Barks, who spoke at length about Daisy Duck … his laughing comments coming back to haunt the Old Duck Man years later. She wrote, "Old-fashioned Scrooge and dapper Gladstone wear spats and Donald and the boys go barefoot, but how do you put women's shoes on lady duck feet? You avoid the issue whenever possible! 'Lord, they're terrible things,' laughs Barks. 'To make a slipper for Daisy or Magica DeSpell, knowing that they have those flat feet to start out with, I had to throw away the idea of the flat duck feet and just draw a slender duck leg coming down into a woman's shoe and never consider what the feet would look like all rolled up'." In the painting it was simple enough to just eliminate Donald's and Daisy's shoes, but when the time came for Barks to do the three-dimensional sketches of each individual duck for the figurine, he knew he was going to have to deal with the problem of the lady duck feet for Daisy and Grandma. But he jumped right into it and solved the problems nicely, thank you. (See the figurine web pages)


Chronology: Editor Geoffrey Blum wrote an overview of the figurine program in The Carl Barks Library of Walt Disney's Comics and Stories in Color #5 published by Gladstone in the early '90s . In it he discusses Lavender and Old Lace with reproductions of face-and-rear drawings by Barks of Daisy and Grandma to show the artisans at Connoisseur of Malvern, the British porcelain studio that sculpted and produced the bone china pieces. Blum's text explains decisions the Duck Man faced: "Should the ladies' arms overlap behind Donald's back? Where are everyone's feet? Is it even possible to position feet on the swirls of red velvet depicted in the lithograph? Somehow the artist must design a pedestal, one that can be sculpted in three dimensions and still remain faithful to the original image." The article explains and illustrates how Barks dealt with these problems. A limited supply of mint copies of the oversized comic album are available. (See the Gladstone Web pages). (Inside each copy of the album is "Heroes and Villains" Trading Card #5, featuring Donald's huge St. Bernard pet dog, Bolivar.)


Lavender and Old Lace was printed by the Black Box of Chicago in five U.S. editions. The image size is 10"x 8" on 13 1/2"x11" Opalesque Keramique, a paper constructed of 100% cotton fiber for strength and longevity that is guaranteed not to fade under normal, stable storage conditions for hundreds of years.