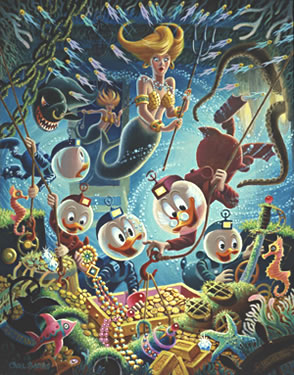 Character images (c) Disney Enterprises, Inc. are provided for infor mation purposes only and not for commercial reuse or reproduction.
Donald Duck and nephews Huey, Dewey and Louie follow their Uncle Scrooge McDuck into the ocean depths in search of treasures guarded by mermaids and other creatures of the deep: their expedition taking them right into the locker of the legendary Davy Jones himself! When Carl Barks was nearly finished with this extraordinary painting he happened upon an aquarium in a restaurant and was fascinated to discover that there were real fish with colors no artist could imagine. He went home and painted the fish over in The Makings of a Fish Story. Barks lives in a fantasy world-as do his fans - but he always has had one foot planted squarely in the real world, and his painting reflects this. . . in his attention to detail and efforts to improve his craft. That he has done so - going into his 88th year - is evident to anyone who can see the enclosed color brochure or who orders his newest lithograph, which was so complicated for The Black Box of Chicago to do that it took them an extra four months to produce and over twice as many color plates (in continuous-tone) as they've ever had to use for a Barks painting before! The Makings of a Fish Story took a staggering 31 colors, as compared to the average Duck print in the past that has taken ten to fourteen!

The Makings of a Fish Story is available in editions of 345 continuous-tone lithographs, 100 Gold Plate prints, five (5) boxed sets of Progressive Proofs, and 100 Tokyo Edition prints (available only in Japan).

Regular Edition Price for #11 and up $900 (available)
Regular Edition Price for #2-10, add 15% (available)
Regular Edition Price for #1, add 65% (sold)
Gold Plate Edition #11-100, add 50% (sold)
Gold Plate Edition #2-10, add 65% (available)
Gold Plate Edtion #1, add 185% (sold)
Publishers and Printer's proofs, add 125% (available)
Artist Proofs, add 175% (sold)
Progressive Proofs, Special Editions and Foreign Editions, inquire. (available)