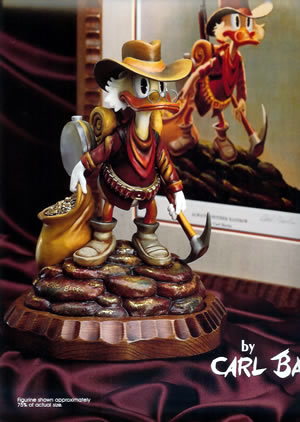 Character images (c) Disney Enterprises, Inc. are provided for infor mation purposes only and not for commercial reuse or reproduction.
For sixty years, Walt Disney's ducks have held a special place in the hearts of readers and film-goes around the world. Ever since a perky, irascible Donald pushed his way onto the screen in 1932, we have laughed at his tantrums and cheered him in his strug­ gles. Donald is Everyman, the same risk-taking, fast-dealing dreamer we would all be.
Twenty years later, when Donald's Uncle Scrooge came on the scene, we gave him our hearts, too, for Scrooge was the dream brought to fulfillment. As the world's richest duck, owner of three cubic acres of money, he was comical proof that the American myth works. It was good to be assured of this, and even better to read in our comic books that millionaires at base are no different than the rest of us. Scrooge was the creation of Carl Barks, a veteran cartoonist who had split off from Disney's anima­ tion studio in 1942 to work on a fledgling line of comics. During the next twenty-five years, Barks wrote and drew over 500 stories featuring Donald, Scrooge, and their lovable, eccen­tric kin. Because his work was published anonymously, he came to be known simply as the Good Artist. People still call him that.
If Disney gave us Donald, Barks made the duck what he is today. While still a team artist at the studio, he began shaping Donald's looks and personality. Later, writing on his own, he provided the duck with a family and room to spread his wings. In early life, Barks had been a logger, laborer, and aspiring odd-jobber. The artist now set Donald these tasks, lending the duck his dreams - and his failures. Scrooge also was shown both in glory and defeat. The greatest success, Barks seemed to say, comes in giving life your best effort.
This is why readers of all ages have embraced Barks' stories: he made the ducks human. It is why Disney honored Barks as one of the company's Legends, an artist who has made a sustained and vital contribution to the Disney myth. And it is why the company has now commissioned a series of porcelain sculptures that capture the magic and the pathos of Barks' creations.
Inaugurating the series is Always Another Rainbow - the figure of a young Scrooge McDuck at the outset of his career on the Comstock Lode. Scrooge has not yet bought the frock coat and high, silk hat which in later life will mark him as a tycoon, but something in his gaze suggests he can see the day coming. Only his rain-sodden hat is droopy; McDuck himself strains ahead to future conquest. One hand clutches a pot of gold; strapped to his back is a rifle to protect it. Pick, canteen, and bedroll complete the young miner's kit. He is ready for a new challenge, a fresh encounter, another rainbow.
Always Another Rainbow is based on a painting Barks made in, 1974, eight years after he retired from comics and moved into the fine art market. There he produced more than a hundred paintings and quickly became a cult phenomenon. Today his original oils, and acrylics hang in the homes of a fortunate few. If a painting came up for auction, it would take a healthy chunk of Scrooge's fortune to buy it. This does not mean that Barks' art is beyond reach. With the advent of the Carl Barks Figurines, 100 discerning collectors will have the chance to acquire their own piece of the rainbow, cast in bone china and signed in the final firing by the artist himself. Each was an original creation, designed by Barks with the same consummate artistry that he devoted to his comics and paintings.
The studio that will bring his ducks to life is Connoisseur of Malvern, located a hundred miles to the north of London. For more than a decade, this talented group of English craftsmen has excelled at creating artworks in porcelain. A floral sculpture from Connoisseur looks as if it could rustle in the wind; a bird, as if it might burst into song. Special commissions from the studio are displayed in Buck­ingham Palace, the Vatican, the White House, and numerous private collections.
It was a daunting task, bringing an oil painting to life in three dimen­sions. The whole image had to be conceived afresh, and from every angle. How did Scrooge look from behind? Were there shadows under the brim of his hat? Was there a strap on his rifle? In making model sketches for the sculptor at Connoisseur, Barks found himself adding numerous details, essentially creating his masterpiece over again. At the same time, he strove at every turn to remain faithful to the original. Then the sculptor went to work.
Their joint rendition was cast in sixteen parts and colored in four stages. Connoisseur's Master Hand Painters have been apprenticed seven years at their trade, and these accomplished craftsmen spent nearly fifteen hours coloring each figure of Scrooge. At every juncture, Barks was consulted to ensure the highest degree of authenticity. He agreed to one daz­zling innovation: the application of
22-carat gold to the nuggets in Scrooge's poke, veins on the rocks, and the bullets in his belt. The result is a unique and precious sculpture. Painted and assembled by hand, no two figures are entirely alike.
Each of the 100 sculptures (plus 10 Artist's Proofs) is securely mounted on a wooden base and paired with a limited-edition lithograph of the painting that inspired it. This print also is signed by Barks, with the same edi­tion number as the sculpture. No detail is spared. Continuous-­tone lithography by the famed Black Box of Chicago pre­serves every nuance of color, while premium paper and archival matting ensure the print's longevity. In a final luxurious flourish, the lithograph comes housed in a cherry wood custom frame whose hand-beveled border matches the figurine's stand. Then, to guarantee exclusivity, the sculptor's molds and printer's plates are destroyed.
Always Another Rainbow is a treasure Uncle Scrooge might dream of, a collector's prize richly and lovingly wrought. For those who know its history, it is a piece of Americana. It is also an artistic coup, presenting Carl Barks' vision in complementary media. Gazing at the lithograph, we see the clouds behind McDuck beginning to part. Holding the statue, we can ac­tually feel them.
If you are within driving distance, it is preferable to pick this rare item up in person. If shipped, the buyer will pay $25 plus actual shipping costs for special courier service.