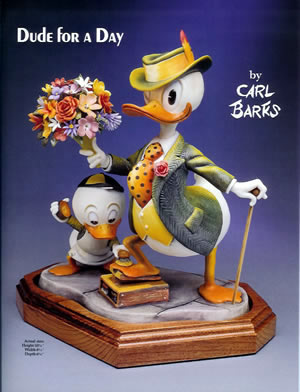 Character images (c) Disney Enterprises, Inc. are provided for infor mation purposes only and not for commercial reuse or reproduction.
Noontime on a busy street in Duckburg. Bankers and secretaries scurry past, trying to make the most of their lunch hour. Donald Duck has just picked up his new tweed jacket and bullied cousin Gladstone out of the loan of a walking stick. He stops at the florist's for a bouquet and a boutonniere: "Give me one of everything!" he snaps. On the way out, he bumps into one of his nephews lugging a shoeshine kit. Don checks his watch. There's time for a quick buff on the way to Daisy's.
A simple scene, but it shows us ourselves. The hopes and dreams that come piling into Donald's life are our hopes and dreams, so that even a downtown street corner can be touched for a moment with magic. This has made the duck one of the world's most beloved cartoon characters.
Over the years, many artists have illustrated Donald's adventures in films and children's books. None is more respected or collectible than Carl Barks, a veteran cartoonist who left Walt Disney's animation studio in 1942 to work on comic books. For twenty-five years, Barks wrote and drew over 500 stories featuring Donald, Uncle Scrooge, and their lovable, eccentric kin. Because his work was published anonymously, he came to be known simply as the Good Artist. People still call him that.
In his nineties, Barks began a new career: creating porcelain sculptures that capture the charm of his comic book ducks. Dude for a Day is based on a paint­ing he made in 1975, nine years after he retired from comics and moved into the fine art market. There Barks produced more than a hundred paintings, quickly becom­ing a cult phenomenon. Today his oils and acrylics hang in the homes of a fortunate few. If a Barks painting came up at auction, it would take a healthy chunk of money to buy it.
This does not mean that his art is beyond reach. With the advent of the Carl Barks Figurines, collectors will have the chance to acquire their own Barks duck, cast in bone china and signed in the last firing by the artist himself. Dude for a Day is the second in a projected series of ten figures, each to be issued in an edition limited to 100 numbered pieces.
Barks designed this jaunty pose of Donald and nephew Huey through a series of drawings based on his painting. It was a daunting task. As the artist put it, "Those quacking characters whom I had always thought of as simple two-dimensional cartoon folk, with no more substance than ink stains on piece of flat paper, were now to be sculpted figures with thickness and height and weight." The whole image had to be conceived afresh, and from every angle. Then there was the matter of sculpting it.
He entrusted production to Connoisseur Ltd, a British studio whose porcelain artworks grace Buckingham Palace and the White House. For weeks Connoisseur's craftsmen worked closely with Barks to bring his sketches to life in three dimensions. Because the studio specializes in floral pieces, its sculptors took great pride in researching Donald's bouquet and rendering the cartoon blossoms as real flowers. Next the sculpture went through an elaborate process of casting, assembly, firing, and decoration. Since all flower petals were shaped and assembled by hand, each figurine an original creation.
You can almost inhale the bouquet's fragrance and feel the sporty swing of Donald's cane (forged in bronze for strength). To give the sculpture an extra touch of class, Connoisseur placed a zircon "in Donald's stickpin-a jewel noted for its brilliance and clarity. This duck is ready for the date of a lifetime!
Hand-painted, adorned with a gemstone, signed in gold, and mounted on a custom cherry wood base, Dude for a Day is an artwork to treasure. So that you may savor the full creative process behind it, each sculpture comes with a 36-page book containing insightful essays and photographs of the artist. There's even an interview with Barks and a preface specially written by him. Your copy will be numbered to match the figurine's edition number, with a certificate of authen­ticity bound in at the back.
As the crowning touch, each figure of Donald is paired with a signed and numbered lithograph of the painting that inspired it. The print comes from a preliminary run of only 100 copies, framed in cherry wood to match the sculp­ture's base and protected by archival glass that incorporates ultraviolet shielding. These custom features are available only to purchasers of the figurine. I
Most important, however, is the artistry of Barks himself. As he modestly put it, "I'm just a cartoonist, but I was the guy who originated each pose and got all that feeling into the duck. That's what they capture in the figurine. My original vision is in each one." And that's what you'll be getting.
Dude For a Day will never again be produced as a figurine and all studio molds have been destroyed or defaced upon completion of this limited edition. This figurine was licensed to The Bruce Hamilton Company by the Walt Disney Company to be released under the imprint of Another Rainbow, Inc."
PLEASE NOTE: Although the edition was originally limited to 100 pieces…..there are, in actuality, only 75 in existence! Click on the following link to get the whole story on what happened to the other 25 sculptures!!! There were also 3 Artist's Proofs created.
If you are within driving distance, it is preferable to pick this rare item up in person. If shipped, the buyer will pay $25 plus actual shipping costs for special courier service.