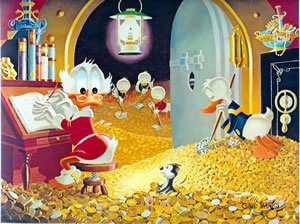 Character images (c) Disney Enterprises, Inc. are provided for infor mation purposes only and not for commercial reuse or reproduction.

Visitor From Underground was Another Rainbow's first Carl Barks money bin lithograph -- large-size or miniature -- in eight years when it was released in 1991. It was an instant success and quickly sold out. (It was also the only miniature money bin litho; An Embarrassment of Riches, released in 1983, was eventually followed by two more, This Dollar Saved My Life at Whitehorse in 1991 and the popular Hands Off My Playthings -- pre-released in 1985 for The Sharper Image catalog -- then, once again and finally, for the collector's market in 1998. All three of the above were 16"x 20" images on larger paper.)


In The Fine Art of Walt Disney's Donald Duck by Carl Barks, a slip-cased coffee table book, Barks historian Barbara Boatner wrote the following text about Carl's painting and what was happening in a Visitor From Underground:


"Worse than the Beagle Boys are little varmints that nibble thousand-dollar bills or squirrel away round, shiny objects … but Scrooge's helpers are too tired from a long day in the south forty to even notice an intruder.

"In the center of the painting is one of Scrooge's many lanterns, which, Barks explains, the old miser used 'because he owned all those oil wells. He wouldn't pay an electric bill when he could light his money with some very cheap kerosene that he already owned … unless, of course, he owned the electric company, too.'


"The money bin scenes, Barks continues, are popular in part 'because they give people the feeling of looking right into the source of all the wealth in the world.' For the ducks who have to till Scrooge's fields, though, the three cubic acres of cash act mainly as a mild soporific.


"In the fall of 1973, shortly after the sale of this painting, its current (and present) owner gathered with the Barkses and several others at the nearby home of a friend. Late in the evening Carl got the collector off to the side and confided -- with a twinkle in his eye -- that 'Visitor From Underground' isn't the real name of that painting. I just put that title on there because I had to call it something. Its real name is, When the **** Hit the Fan.' Obviously, a story for posterity."


Visitor From Underground and text about the painting are printed as a double-page spread in the Fine Art Book (plate 41, pages 150-151, chronological number 51, Barks' 12th oil painting from 1973). Visitor From Underground was done in continuous tone by the Black Box of Chicago in three editions.
Regular Edition Price for #11 and up $990 (sold)
Regular Edition Price for #2-10, add 15% (sold)
Regular Edition Price for #1, add 55% (available)
Gold Plate Edition #11-100, add 20% (sold)
Gold Plate Edition #2-10, add 55% (sold)
Gold Plate Edition #1, add 125% (sold)
Publishers and Printer's proofs, add 80% (available)
Artist Proofs, add 120% (sold)
Progressive Proofs, Special Editions and Foreign Editions, inquire. (available)