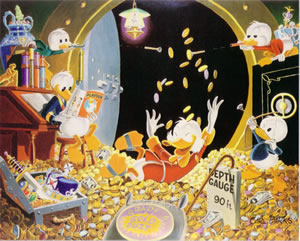 Character images (c) Disney Enterprises, Inc. are provided for infor mation purposes only and not for commercial reuse or reproduction.

Fun is different things to different people. For Uncle Scrooge McDuck, it always inolves money. Time Out for Fun depicts the Fowl Old Miser taking time out for his fun, while nephew Donald Duck and siblings Huey, Dewey and Louie are all absorbed in their own pleasures. Produced in the mid-1990's in signed, limited quantities by Another Rainbow from a famous 1973 money bin oil painting by Carl Barks, it was never officially released and the only prints available on this website are those from the personal collection of Bruce Hamilton. The remainder became the property of the Walt Disney Company as part of a settlement with Mr. Hamilton. The whereabouts of these other lithographs remains a mystery - although some of the prints have surfaced in Europe. Time Out for Fun is the eighteenth miniature lithograph in a long-run series reproduced by the Black Box of Chicago: a continuous-tone, twelve (12) color method; eight inches high by ten inches wide (8" x 10"); on heavy, archival, Opalesque KeramiqueTM paper; eleven and one half inches high by thirteen inches wide (11 1/2" x 13").
Three U.S. Editions have been struck: A Progressive Proof Edition of 5 boxed sets, each combining 23 lighographs that include all 12 colors and 11 progressives; a Gold Plate Edtion of 100 that have a 1/4" gold band surrounding the image areas, plus a gold foil-stamped drawing by Barks in the lower left margings; a Regular Edition of 595; and a small quantity of Publisher, Printer and Artist proofs.
Regular Edition Price for #11 and up $700 (sold)
Regular Edition Price for #2-10, add 15% (available)
Regular Edition Price for #1, add 55% (sold)
Gold Plate Edition #11-100, add 20% (sold)
Gold Plate Edition #2-10, add 55% (sold)
Gold Plate Edition #1, add 125% (sold)
Publishers and Printer's proofs, add 80% (available)
Artist Proofs, add 120% (available)
Progressive Proofs, Special Editions and Foreign Editions, inquire. (available)