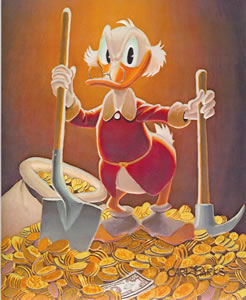 Character images (c) Disney Enterprises, Inc. are provided for infor mation purposes only and not for commercial reuse or reproduction.

Hard work is its own reward -- everyone knows that. But Scrooge McDuck will tell you that gold is also pretty hard to beat. He should know: he's been raking in the shiny stuff since the Gold Rush of 1898. Today he owns farms and factories, airlines and apple carts, and three cubic acres of cash. No wonder he is proud of the way he scraped together his first million. As Scrooge figures it, he's the richest sourdough ever to swing a pick or sink a spade into the frostbitten banks of the Klondike.


Pick and Shovel Laborer is a classic portrait of Uncle Scrooge that takes us inside the old duck's money bin to perhaps catch him lecturing the nephews, "You'd love your money, too, if you got it the way I did -- by being tougher than the toughies, and smarter than the smarties. And I made it square!"


The miniature lithograph of Pick and Shovel Laborer was one of only two chosen by Another Rainbow for a three-dimensional experiment … sculpting the image of Uncle Scrooge in a bas relief effect that was taken from Japanese technology (the other was A Christmas Trimming, which also had a reflective ink glitter simulating falling snow that was applied to the surface). The results were undeniably impressive, though virtually invisible in the catalog and to casual inspection by the naked eye when framed under glass . It was a process the company saved for an important release: the image of Uncle Scrooge McDuck as a Pick and Shovel Laborer, depicted in warm browns and golds! A large-size lithographic reproduction would have been even more spectacular and might have created a greater demand for a reprise, but the cost to do so would have been exorbitant and, to our appreciation and satisfaction, the effort was favorably recognized by a goodly number of discerning collectors, who proclaimed it to be unique and worthy, something for which Another Rainbow is justifiably proud (see the White Sculpture Edition listed below).


Pick and Shovel Laborer was printed by the Black Box of Chicago in six U.S. editions. The image size is 10"x 8" on 13 1/2"x 11" OpalesqueKeramique, a paper constructed of 100% cotton fiber for strength and longevity that is guaranteed not to fade under normal, stable storage conditions for hundreds of years. Two of the editions could be defined as "Beyond the Norm": the first was the extraordinary White Sculpture Edition of only 12 copies (described earlier), each numbered and signed by Barks, paired with a like numbered, unsigned, regular full-color print to complete the package. The second was a special Figurine Edition which closed at 62 impressions, all framed in cherrywood, paired with and numbered to match world class English bone figurines (#1 of 100 was released at a retail price of $13,950; #'s 2-10 @ $8,950 each; and #'s 11 and up @ $6,950 each). We've only known of one instance when a collector broke up his pairs and auctioned off three framed lithographs, separating them from the accompanying figurines. We feel this was unfortunate because the auction catalog failed to mention there was only one Certificate of Authenticity, substantially reducing the veracity of the pair … as well as their combined future potential resale values!
Regular Edition Price for #11 and up $455 (sold)
Regular Edition Price for #2-10, add 15% (available)
Regular Edition Price for #1, add 55% (available)
Gold Plate Edition #11-100, add 20% (sold)
Gold Plate Edition #2-10, add 55% (sold)
Gold Plate Edition #1, add 125% (sold)
Publishers and Printer's proofs, add 80% (available)
Artist Proofs, add 120% (sold)
Progressive Proofs, Special Editions and Foreign Editions, inquire. (available)