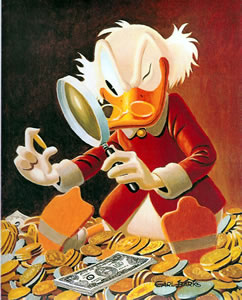 Character images (c) Disney Enterprises, Inc. are provided for infor mation purposes only and not for commercial reuse or reproduction.

The front cover of our 1997 product catalog exuberantly exclaims: This is the most important catalog ever published by Another Rainbow! Highlighting the issue, of course, was the double-whammy of both the miniature litho and the English bone china figurine of The Expert by Duck Man, Carl Barks! Done in 1975, the painting of Uncle Scrooge McDuck as The Expert was what the old duck was all about: his money, the acquisition of it, the hoarding of it and his expertise in this arena of obsession . Of particular significance is that there was a second lithograph offered in the same catalog, Nobody's Spending Fool . There were more prints sold in quantity and dollar volume than through any other catalog in the history of Another Rainbow . The Expert sold out more quickly than any miniature in years, which speaks volumes about its importance as well as appeal, especially since it had to compete against Nobody's Spending Fool, a large-size print which perfectly represents what the young Scrooge was all about!


Tycoon McDuck examines a gold coin through a magnifying glass, a full-figure portrait released in six U.S. edition 12-color Opalesque Silk TM lithographs printed with a 10"x 8" image on paper trimmed to 13 1/2 x 11" that is constructed of 100% cotton fiber for strength and longevity and guaranteed not to fade under normal, stable storage conditions for hundreds of years . The six editions were: 25 Figurine (each sold with an accompanying porcelain); 5 Progressive Proof; 100 Gold Plate; 96 Carl Barks Birthday; 50 McDuck Golden Anniversary; and 595 Regular . No copies of The Expert were sold to Disney, except for a small quantity guaranteed for foreign release only.


Chronology: The back cover to Walt Disney's Uncle Scrooge #317 (Series II), January 1999, is devoted to a picture of the oil painting and mini-lithograph of The Expert. On the inside, the exquisite high-end, very limited edition English bone china figurine produced by Britain's Connoisseur of Malvern is featured on the title page in a pose mimicking the printed version, while a head-on shot looks through the magnifying glass at Scrooge's enlarged eyeball, which is scrutinizing the real gold coin the old duck holds between the thumb and forefinger of his right hand, showing a different look at Barks' own three-dimensional concept of the character as viewed from the front, but also delivering a clear, sharp, spotlighted look at the Duck Man's detailed rendering of a City of Duckburg minted twenty ducat (pronounce that duck-it) piece that parodies the famous 1908 U. S. twenty-dollar gold coin (illustrating the article, "Bruce Hamilton Tells the Real Story Behind The Expert's Gold Coin"). An explanation of the print and porcelain's history is given on the Table of Contents page. In the same issue are two Barks comic book stories and a two-page article with photos by Michael Naiman "A Journey to Duckburg," in which the author describes an historic meeting in the summer of 1998 between Barks and heir-apparent, New Duck Man, Don Rosa, at the Old Duck Man's home in Oregon. This comic book is available for sale, while supplies last (See Gladstone web pages.)
Regular Edition Price for #11 and up $560 (sold)
Regular Edition Price for #2-10, add 15% (available)
Regular Edition Price for #1, add 55% (available)
Gold Plate Edition #11-100, add 20% (sold)
Gold Plate Edition #2-10, add 55% (sold)
Gold Plate Edition #1, add 125% (sold)
Publishers and Printer's proofs, add 80% (available)
Artist Proofs, add 120% (available)
Progressive Proofs, Special Editions and Foreign Editions, inquire. (available)