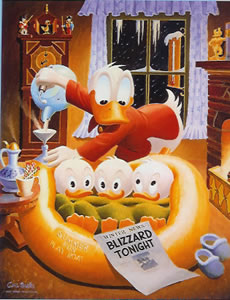 Character images (c) Disney Enterprises, Inc. are provided for infor mation purposes only and not for commercial reuse or reproduction.

Of all the lithographs published by Another Rainbow, Blizzard Tonight was unique in one distinction: we were astounded by its reception! The print sold out much faster than we'd dared hope, went up in secondary market values quickly and it had no detractors. Why? It didn't include Uncle Scrooge; it was an indoor scene; there was no spectacular coloring; and we felt the foreign market wouldn't respond well because of the English language newspaper text. None of these factors made any difference …


Barks fans went crazy about it. Again, why? I guess it's because it touched the heart of everyone. Women liked it as well as men (in a male-dominated field), kids felt good about it and it was funny. It told a little story that was immediately translatable into all cultures and climes. It was pure Carl Barks.


Our original literature described Blizzard Tonight by saying that the "weather outside leaves no doubt as to the newspaper's forecast accuracy … but in the home of Donald Duck there will be no cold little ducks thanks to the inventiveness of converting a child's rubber boat into a bed-size water bottle!" Inspiration for the painting came from the cover Barks did for Donald Duck #44, November-December 1955, an issue in which he, oddly, had no stories. The original 20"x16" oil painting fleshes out details of the room that were omitted in the comic cover's solid black background (not colored by the Old Duck Man, but a random layout decision by Western Publishing's editors).


In The Fine Art of Walt Disney's Donald Duck by Carl Barks, Barbara Boatner comments that "Barks' humor in details can be seen in the gold duck figurine and toys on the mantel and clock, and the steamy carafe with the ornamental dancing ducks." And though you can't read the actual degrees, the red mercury in the outside thermometer clearly shows the reading is low! (In the Fine Art book, a reproduction of Blizzard Tonight appears as plate 37 on pages 140-141, chronological number 43, Barks' 4th oil painting from 1973. If you are into numerology you might find interesting we had 37 signed prints left over when we determined the various editions that were to be released and decided to make the Huey, Dewey and Louie Special Edition use exactly that number in commemoration of the creation of the three nephews in 1937, though their first animated cartoon actually debuted the following year. Barks did the painting in 1973 -- the last two digits being 37 reversed -- and appears in the Fine Art book as plate 37.)


Blizzard Tonight, Another Rainbow fifth mini-litho, was printed by the Black Box of Chicago in four editions. The image size is 10"x 8" on 13" 1/2"x11" Opalesque Keramique, a paper made of 100% cotton fiber for strength and longevity, guaranteed not to fade under normal and stable storage conditions for hundreds of years.
Regular Edition Price for #11 and up $750 (sold)
Regular Edition Price for #2-10, add 15% (available)
Regular Edition Price for #1, add 55% (available)
Gold Plate Edition #11-100, add 20% (sold)
Gold Plate Edition #2-10, add 55% (available)
Gold Plate Edition #1, add 125% (sold)
Publishers and Printer's proofs, add 80% (available)
Artist Proofs, add 120% (sold)
Progressive Proofs, Special Editions and Foreign Editions, inquire. (available)