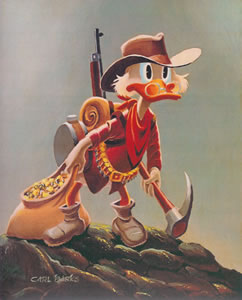 Character images (c) Disney Enterprises, Inc. are provided for infor mation purposes only and not for commercial reuse or reproduction.

Our company, Another Rainbow (which eventually became an imprint for The Bruce Hamilton Company) was proud to release this miniature lithograph because it was Always Another Rainbow that inspired our name. Barbara Boatner, a Barks historian, wrote about the oil in The Fine Art of Walt Disney's Donald Duck:


"… the painting is a classic portrait of Scrooge, the doer; a visionary, but not a dreamer, alone, but unafraid."


We felt this described our fledgling company in 1981 when we embarked on our twenty-year journey as a Disney licensee: we saw ourselves as visionary doers, like the young Scrooge, alone, but most certainly not afraid. Even then, however, our vision didn't extend to the incredible heights we were allowed by being associated with Carl Barks -- and, in the face of critics, we were right about a few things along the way, blazing trails and paving a few highways. … One thing we did not know in 1981 was that eleven years later we would release a beautiful, continuous-tone miniature lithograph of our namesake painting, signed by Carl Barks, who was then still alive and vital, and that we would enjoy seeing four editions quickly sell out! In her essay, Boatner went on to talk about Always Another Rainbow, quoting Barks:


"' gave the painting a Frazetta-like coloring. There is an emotional quality in graying the colors. It's not a finely finished picture … it's fairly roughly painted. If I'd gotten down with my brush and my magnifying glass I could have clearly shown the fabric." It was a painting that gracefully flowed from the Old Duck Man's brush and palette and was easy for him to adapt many years later in three dimensions for the first and most favorably accepted in a series of pricey English bone china figurines which sold out in an edition of 100 at $5,000 each in just five weeks (though most customers bought theirs on time payments)! It was the first time anything in any medium ever happened on this scale with any Carl Barks image. The math is apparent: $500,000 worth (at full retail) of porcelains were snapped up in a little more than a month!


Always Another Rainbow and text about the painting are printed as a double-page spread in the Fine Art book (plate 68, pages 212-213, chronological number 91, Barks' 23rd and last oil painting in 1974). Always Another Rainbow was printed by the Black Box of Chicago in four editions. The image size is 10"x 8" on 13 1/2"x 11" Opalesque Silk, a paper constructed of 100% cotton fiber for strength and longevity that is guaranteed not to fade under normal, stable storage conditions for hundreds of years.


Chronology: The Always Another Rainbow figurine was featured in two issues of Walt Disney's Uncle Scrooge (Series II), published by The Bruce Hamilton Company under the Gladstone imprint. The back cover and title page of the July 1998 issue, #311, show two views of the Barks-designed figurine that was based on his painting of the same image (the stories behind the porcelain and limited edition miniature llithograph appear on the Table of Contents page). Seven months later in the February 1999 issue, #318 (the last Gladstone Uncle Scrooge), there was a one-page feature article, "Were They Thinking of Indiana McDuck?", that pictures the first Connoisseur of Malvern prototype of Always Another Rainbow alongside a corrected version. At first, the sculptors paid little attention to Scrooge's hat, making its shape and style more like Indiana Jones' headgear. Copies are available, while limited supplies last (See Gladstone web Pages.)


Regular Edition Price for #11 and up $840 (sold)
Regular Edition Price for #2-10, add 15% (available)
Regular Edition Price for #1, add 55% (available)
Gold Plate Edition #11-100, add 20% (sold)
Gold Plate Edition #2-10, add 55% (sold)
Gold Plate Edition #1, add 125% (sold)
Publishers and Printer's proofs, add 80% (available)
Artist Proofs, add 120% (sold)
Progressive Proofs, Special Editions and Foreign Editions, (available)