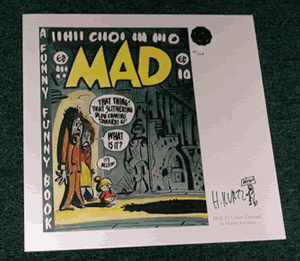 Click above for expanded view of a Mad #1 Regular Edition Lithograph - note signature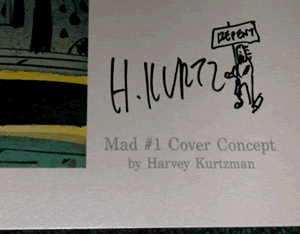 Closeup of Mad #1 Remarqued Signature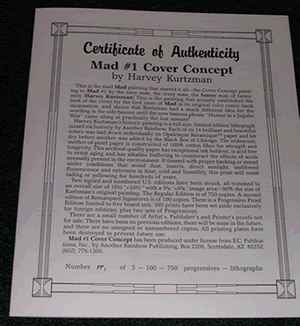 Mad #1 Certificate of Authenticity Booklet
This is the mad Mad painting that started it all - the Cover Concept painting to Mad #1 by the zany man, the crazy man, the funny man of funny­men, Harvey Kurtzman! This is the painting that actually established the look of the cover for the first issue of Mad in its original color comic book incarnation.
Harvey Kurtzman's historic painting is a full-size, limited edition lithograph issued exclusively by Another Rainbow. Each of its 14 brilliant and beautiful colors was laid down individually on Opalesque KeramiqueTM paper and let dry before another was added by the Black Box of Chicago. The iridescent, mother-of-pearl paper is constructed of 100% cotton fiber for strength and longevity. This archival quality paper has exceptional ink holdout, is acid free to resist aging and has alkaline buffering to counteract the effects of acids normally present in the environment. If framed with proper backing or stored under conditions that avoid dust, insects, direct sunlight, unfiltered fluorescence and extremes in heat, cold and humidity, this print will resist fading or yellowing for hundreds of years.
Two signed and numbered U.S. editions have been struck, all trimmed to an overall size of 10 ½" x 10 ½" f with a 9 1/8" x 6 5/8" image area - 90% the size of Kurtzman's original painting. The Regular Edition is of 750 copies. A second edition of Remarqued Signatures is of 100 copies – in the order that we liked best – beginning with the #1 print. There is a Progressive Proof Edition limited to five boxed sets. 395 prints have been set aside exclusively for foreign editions, plus two sets of Progressives. All prints come with Certificates of Authenticity and a special 32-page booklet containing the biographies of Mad Magazine artists and writers, written by Mad historian Maria Reidelbach. There are a small number of Artist's, Publisher's and Printer's proofs. There have been no previous editions, there will be none in the future, and there are no unsigned or unnumbered copies. All printing plates have been destroyed to prevent future use.
Note: Purchasers will receive the lowest available number in any particular price category.
Shipping via Priority Mail in USA - $15.00