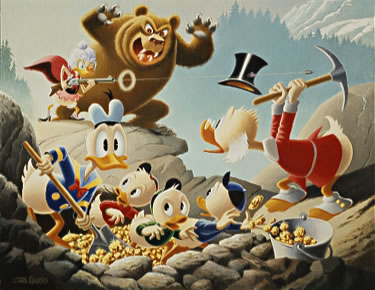 Character images (c) Disney Enterprises, Inc. are provided for infor mation purposes only and not for commercial reuse or reproduction.
On the March 1953 cover to Uncle $crooge, Glittering Goldie and her bear, Blackjack, are shown eyeing the Duck family of Donald and nephews Huey, Dewey and Louie – with their rich Uncle Scrooge McDuck - as they are about to jump what she feels is her claim. Carl Barks' 1987 lithograph shows the aftermath, that Trespassers Will Be Ventilated.
This lithograph's regular edition is of 345 signed and numbered copies. A second edition of 100 lithographs, each stamped with a debossed ¼" gold band surrounding the 16" x 20" image area, and an edition of five complete sets of progressive proofs have been struck, all trimmed to a 21 ½" x 25" paper size. In addition there are a small number of artist's, publisher's­ and printer's proofs not for sale. There have been no previous editions, there will be none in the future, and there are no unsigned or unnumbered copies. All printing plates have been destroyed to prevent future use.

The iridescent, mother-of-pearl Opalesque paper, embossed with a silk texture, has been pressure-stamped on the image area to more closely simulate the non-textured surface of the original oil. Constructed of 100% cotton fiber for strength and longevity, this archival quality paper has exceptional ink holdout, is acid free to resist aging, and has alkaline buffering to counteract the effects of acids normally present in the environment. If framed or stored under conditions that avoid dust, insects, direct sunlight, and extremes in heat, cold and humidity, this print will resist fading or yellowing for hundreds of years.
Trespassers Will Be Ventilated is the eleventh Carl Barks lithograph in a series produced by Another Rainbow Publishing. It-was printed by The Black Box, continuous-tone lithographers, of Chicago.
Regular Edition Price for #11 and up $750 (sold)
Regular Edition Price for #2-10, add 15% (available)
Regular Edition Price for #1, add 65% (available)
Gold Plate Edition #11-100, add 50% (sold)
Gold Plate Edition #2-10, add 65% (sold)
Gold Plate Edtion #1, add 185% (sold)
Publishers and Printer's proofs, add 125% (available)
Artist Proofs, add 175% (sold)
Progressive Proofs, Special Editions and Foreign Editions, inquire. (available)