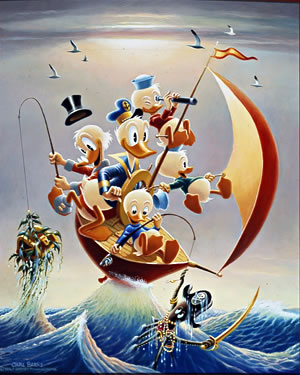 Character images (c) Disney Enterprises, Inc. are provided for infor mation purposes only and not for commercial reuse or reproduction.
Carl Barks' Sailing the Spanish Main is a limited edition lithograph of 245 signed and numbered copies, plus 20 artists proofs, produced on 90 lb. 24" x 20" Buckeye Ltd. paper with a 20" x 16" image area.

Buckeye Ltd. is an ultra-smooth 100% cotton fiber stock created by The Beckett Paper Company to excel in ink holdout and in quality and consistency of color repro­duction. It is exceptionally lightfast, tested by laboratory analysis to resist aging for more than 100 years. Buckeye Ltd. is a "neutral pH" paper that uses only the brightest pulps, buffered to neutral acidity to offer long life expectancy and resistance to fading and yellowing.

This lithograph has had no prior editions and will have no future editions. There are no unsigned or unnumbered copies. All printing plates have been permanently scarred to prevent future use and are being kept for historical pur­poses at the Walt Disney Archives.