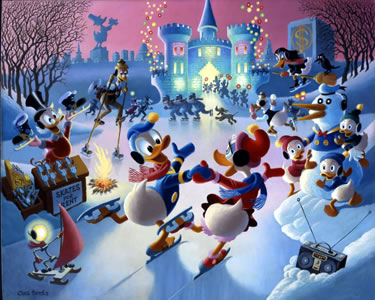 Character images (c) Disney Enterprises, Inc. are provided for infor mation purposes only and not for commercial reuse or reproduction.
A unique wintertime look at Duckburg, its denizens and an ice castle. The Duck family and all their friends (plus a few antagonists) are en­joying a Mardi Gras Before the Thaw - a festive, subfreezing ice skate party. While nephews Huey, Dewey and Louie sculpt a familiar ­looking snowman, Daisy and Donald Duck glide over the pond's surface, hand-in-hand, oblivious to all but each other. Uncle Scrooge is in his element, turning the occasion into a profit maker and if you look closely, isn't that Mickey and Minnie in the background among other recognizable silhouetted figures?
Carl Barks' magnificent oil is the eighteenth Walt Disney oil paint­ing by the Old Duck Man in a continuing full-size, limited edition lithograph series begun by Another Rainbow ten years ago. Printed by the Black Box in Chicago, in an image measuring 16" x 20" on 21 1/2" x 25" paper, it is available in a Regular Edition of 350 copies, 100 Gold Plates, five (5) boxed sets of Progressive Proofs, and a special Barks' Golden Anniversary Edition of 100 prints celebrating fifty years since the publication of his first Donald Duck comic book story! 395 have been set aside exclusively for foreign editions, plus two boxed sets of Progressives.
Regular Edition Price for #11 and up $900 (sold)
Regular Edition Price for #2-10, add 15% (available)
Regular Edition Price for #1, add 65% (available)
Gold Plate Edition #11-100, add 50% (sold)
Gold Plate Edition #2-10, add 65% (sold)
Gold Plate Edtion #1, add 185% (sold)
Publishers and Printer's proofs, add 125% (available)
Artist Proofs, add 175% (sold)
Progressive Proofs, Special Editions and Foreign Editions, inquire. (available)