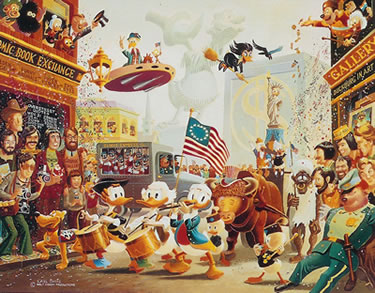 Character images (c) Disney Enterprises, Inc. are provided for infor mation purposes only and not for commercial reuse or reproduction.
A fabulous fraternity of fans share the spotlight with Donald, Uncle Scrooge, The Junior Woodchucks, and the entire panoply of Barks' Disney characters in his tribute to the Nation's Bicentennial, July Fourth in Duckburg.
Painted, appropriately enough, in early 1976, Barks' choice of real world people to be included in the oil were among those most active in the Barks market at the time: Don Ault, Mike Barrier, E. Barbara Boatner, Glenn Bray, Russ and Vance Cochran, Tony Dispoto, Bruce Hamilton, Jerry Osborne, Bob Overstreet, Don Phelps, Bud Plant, and Burrel Rowe. The lithograph is part of a continuing, hand-signed and numbered limited edition series.
July Fourth in Duckburg has been produced in four U.S. editions. First, there are five (5) commercially released sets in a Progressive Proof Edition, each numbered "1 of 5" (one of five). There are also four Publisher's Proof progressives - including one for the permanent collection in the library of the Disney Enterprises, Inc. archives - and there are two Printer's Proof sets and one Artist's Proof. Only the edition numbered" 1 of 5" is for sale.
This Progressive Proof set is comprised of eleven (11) colors and twenty-one (21) prints that have been numbered sequentially as to their on-press progression. The "process" colors represent multiple exotic combinations of inks used with different mixtures or laboratory blends that are individually identified. In some cases a plate or "color" may have been run through the press a second or third time with different intensities of ink to achieve a desired effect.
As an artist's painting is incomplete until the last brush of color is added, the step-by-step history of the making of a lithograph is built by the addition of colors until the last progressive is printed. The owner of each proof set can see, layer upon layer, how the print looked at various stages of its production, as each added color is followed by a progressive that combines all of the colors preceding it. The final print - with gold leaf added - was signed by Barks.
The twenty-one prints have been inserted in Mylar sleeves for permanent storage and are housed in a hand-crafted, foil-stamped, customized box. If stored as originally packaged and kept under conditions that avoid dust, insects, and extreme or rapid changes in heat, cold, and humidity, these lithographs will resist fading and yellowing for hundreds of years.
Second is a Gold Plate Edition of 100 prints of July Fourth in Duckburg, each stamped with a debossed 1/4" gold band surrounding the 15" x 2O" image area and with a drawing by Barks stamped in gold in the lower left margin. The special Stars of the Fourth Edition is a third, consisting of 50, gold-stickered lithographs. Finally, the Regular Edition is of 350 copies. All editions have been trimmed to a 20 1/2" x 25" paper size. There is a small quantity of
Artist's, Publisher's, and Printer's Proofs not for sale. There have been no previous editions and there will be none in the future, except for 100 prints and two sets of Progressive Proofs that have been set aside exclusively for foreign distribution. All foreign prints of this edition have a foil-embossed seal affixed which displays the Another Rainbow colophon - as do all foreign editions marketed after January 1, 1996. Editions released into the North American market do not have the seal. No unsigned or unnumbered prints will ever be distributed and all engraving plates have been destroyed to prevent future use.
July Fourth in Duckburg was printed by the Black Box of Chicago on Opalesque Keramique paper under license from Disney Enterprises, Inc. to Another Rainbow.