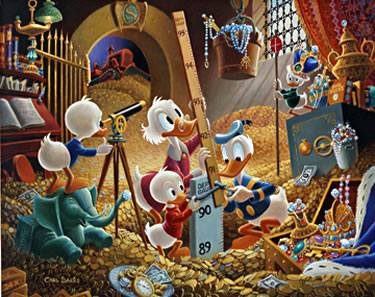 Character images (c) Disney Enterprises, Inc. are provided for infor mation purposes only and not for commercial reuse or reproduction.
Carl Barks' An Embarrassment of Riches is a lithograph limited to two editions, one of 395 signed and numbered copies, plus a final bon-a-tirer trial proof, six artist's proofs and 14 publisher's proofs, produced on 20" x 24" Buckeye Ltd. paper with a 16" x 20" image area.

A second edition of 500 signed and numbered copies bears the imprint Sharper Image Edition.

Buckeye Ltd. is a sturdy 90 lb. stock with a neutral pH factor. It is constructed of 100% cotton fiber to give it strength and longevity, is acid free to resist the ravages of time, and has alkaline buffering to counteract the effects of acids normally present in the environment. It has exceptional ink holdout for quality and consistency in color reproduction.

If this print is framed or stored under conditions that avoid dust, insects, direct sunlight, and extremes in heat, cold and humidity, it will resist fading or yellowing for hundreds of years.

This lithograph has had no prior editions and will have none in the future. There are no unsigned or unnumbered copies. All printing plates have been permanently scarred to prevent future use and are being kept for historical pur­poses in the Walt Disney Archives.

An Embarrassment of Riches is the second Carl Barks lithograph produced by Another Rainbow Publishing. It was printed by Alan Lithograph of Los Angeles.