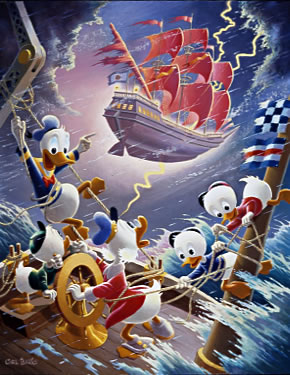 Character images (c) Disney Enterprises, Inc. are provided for infor mation purposes only and not for commercial reuse or reproduction.
Carl Barks' Afoul of the Flying Dutchman is a continuous-tone lithograph of Donald Duck, his nephews Huey, Dewey and Louie, and the officer of a custom-rigged dredger - Uncle Scrooge McDuck - searching stormy waters in the South Atlantic and finding a legendary ghost ship (this painting is based upon a famous comic book story written and drawn by Carl Barks called "The Flying Dutchman," which was originally published in Uncle Scrooge 25, March, 1959). It has been produced on Opalesque paper, limited to two editions plus six artist's proofs, 15 publisher's proofs and ten printer's proofs.

The first edition is of 345 signed and numbered copies. The twin edition of 100 lithographs is stamped with a gold seal displaying a Carl Barks draw­ing of Donald Duck and the words "Gold Plate Edition:' It also has a three dimensionally debossed ¼" gold band surrounding the 20" x 16" image area. The paper size is 25 ½" x 21".

Opalesque is a registered archival-quality paper constructed of 100% cotton fiber for strength and longevity and is coated with a mother-of-pearl silken finish. It has exceptional ink holdout that gives it color reproduction of quality and consistency. It is acid free to resist aging and has alkaline buffering to counteract the effects of acids normally present in the environ­ment. If this print is framed or stored under conditions that avoid dust, insects, direct sunlight and extremes in heat, cold and humidity, it will resist fading or yellowing for hundreds of years.

This historic limited edition lithograph has had no previous editions and there will be none in the future. There are no unsigned or unnumbered copies. All printing plates have been destroyed to prevent future use.

Afoul of the Flying Dutchman is the seventh Carl Barks lithograph in a series produced by Another Rainbow Publishing. It was printed by The Black Box, continuous­tone lithographers, of Chicago.
Regular Edition Price for #11 and up $1500 (sold)
Regular Edition Price for #2-10, add 15% (sold)
Regular Edition Price for #1, add 65% (available)
Gold Plate Edition #11-100, add 50% (sold)
Gold Plate Edition #2-10, add 65% (available)
Gold Plate Edtion #1, add 185% (sold)
Publishers and Printer's proofs, add 125% (available)
Artist Proofs, add 175% (sold)