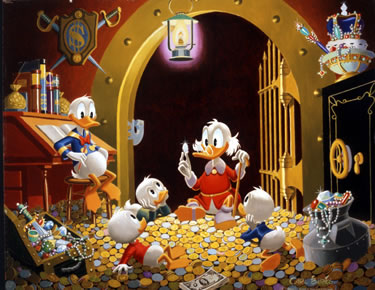 Character images (c) Disney Enterprises, Inc. are provided for infor mation purposes only and not for commercial reuse or reproduction.
Uncle Scrooge gathers his nephews to regale them with tales of cherished coins. He pauses, to let his audience conjure the images evoked by his statement, "This Dollar Saved My Life at Whitehorse."

Collectors have overwhelmingly con­cluded that This Dollar Saved My Life at Whitehorse is Carl Barks' money bin masterpiece. The images of Scrooge, Donald and the boys could stand forever as models of how to draw the Ducks!

The Twenty-first release in a series of full-size, signed and numbered lithographs produced by Another Rainbow from paintings by Barks, This Dollar is now offered in four US editions printed with twelve (12) brilliant, clear screenless lithography fullplate and touchplate colors by the Black Box of Chicago. The image area is 16"x 20" on 21 1/2" x 25" Opalesque Silk, a sturdy, substantial acid-free paper.
Regular Edition Price for #11 and up $1425 (sold)
Regular Edition Price for #2-10, add 15%(sold)
Regular Edition Price for #1, add 65% (available)
Gold Plate Edition #11-100, add 50% (sold)
Gold Plate Edition #2-10, add 65% (sold)
Gold Plate Edtion #1, add 185% (sold)
Publishers and Printer's proofs, add 125% (sold)
Artist Proofs, add 175% (sold)
Progressive Final Proof Folio Book, Special Editions and Foreign Editions, inquire. (sold)