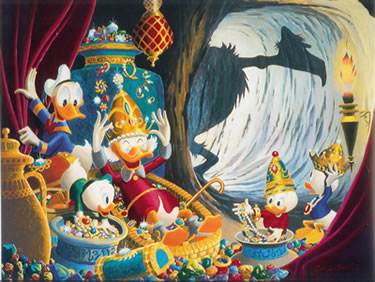 Character images (c) Disney Enterprises, Inc. are provided for infor mation purposes only and not for commercial reuse or reproduction.
Uncle Scrooge has done it again! Or has he? Having uncovered the legendary wealth of Ali Baba (with a bit of help from his nephews and a mysterious professor of Arabian antiquities), he's enjoying one of his favorite pursuits, unaware that an ancient and ill-tempered guardian is about to stick its beak into the frolic. This is Carl Barks' glittering depiction of a pivotal moment in a grand quest for treasure and truth In the Cave of Ali Baba.
The twenty-third release in a series of full-size, signed and numbered lithographs produced by Another Rainbow from paintings by Carl Barks, In the Cave of AU Baba is now offered in four U.S. editions printed with fifteen (15) brilliant, clear screenless lithographic fullplate and touchplate colors by the Black Box of Chicago. The image area measures 16" x 20" on Opalesque Keramique, a sturdy, substantial acid-free paper (overall size is 21 1/2" x 25").
Regular Edition Price for #11 and up $640 (sold)
Regular Edition Price for #2-10, add 15% (sold)
Regular Edition Price for #1, add 65% (sold)
Gold Plate Edition #11-100, add 50% (sold)
Gold Plate Edition #2-10, add 65% (available)
Gold Plate Edtion #1, add 185% (sold)
Publishers and Printer's proofs, add 125% (available)
Artist Proofs, add 175% (sold)
Progressive Proofs, Special Editions and Foreign Editions, inquire. (available)