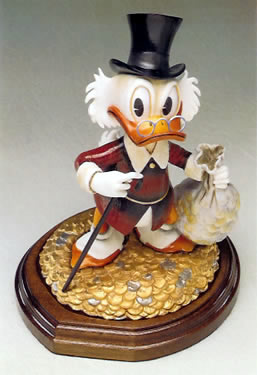 Character images (c) Disney Enterprises, Inc. are provided for infor mation purposes only and not for commercial reuse or reproduction.
Captured in all his miserly splendor, Scrooge stands vigil over his hoard in this special issue in Another Rainbow's Carl Barks figurine series
The Quintessential Uncle Scrooge by Carl Barks is loosely based on his 1971 image of Scrooge McDuck in the oil painting, Blue Composition of Ducks.
Reinterpreted by artisans at Connoisseur of Malvern a porcelain art studio in Great Britain, The Quintessential Uncle Scrooge was to have been produced in a limited edition of 500 copies and ten Artist's Proofs in the finest of English bone china. (100 Regular Edition figurines were made but the edition closed at 56 as the remaining 44 were destroyed in 2001.Click on the following link to get the whole story on what happened to the other 44 sculptures!!! Each copy in the regular edition is numbered "One of 500" and each Artist's Proof is identified as "AP of 500" (there were 10 APs produced) :' Mounted on a cherrywood base, its actual height is eight inches. Each one has a Carl Barks signature fired in gold on the reverse of the money sack.
Originally released in 1992 as a premium to be given to purchasers of Barks' Dude for a Day figurine and Theo Faberge's "St. Petersburg Collection" Midnight Egg, the edition was opened to the world market in November, 1993.
The Quintessential Uncle Scrooge will never again be produced as a figurine and all studio molds will be destroyed or defaced upon completion of the limited edition.
This figurine was licensed to The Bruce Hamilton Company by the Walt Disney Company to be released under the imprint of Another Rainbow, Inc.