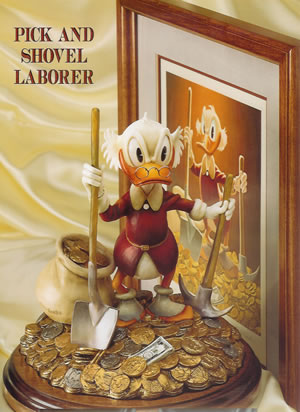 Character images (c) Disney Enterprises, Inc. are provided for infor mation purposes only and not for commercial reuse or reproduction.
Hard work is its own reward - everyone knows that. But Scrooge McDuck will tell you that gold is also pretty hard to beat. He should know: he's been raking in the shiny stuff since the Gold Rush of 1898. Today he owns farms and factories, airlines and apple carts, and three cubic acres of cash. No wonder he's proud of the way he scraped together his first million. As Scrooge figures it, he's the richest sourdough ever to swing a pick or sink a spade in to the frostbitten banks of the Klondike.
Carl Barks painted Pick and Shovel Laborer in 1974, two decades after Uncle Scrooge rose to fame in Walt Disney's comic books. This classic portrait takes us inside the old duck's money bin to catch him at his proudest, sheltered by sturdy walls and basking in the glow of his gold. We can almost hear him lecturing his nephews on thrift: "Froze my fingers to the bone digging nuggets out of the creeks! You'd love your money, too, if you got it the way I did - by being tougher than the toughies, and smarter than the smarties."
Straddling a mound of coins, he holds out the tools of his trade: not calculators or stock market quotes, but a simple pick and shovel. "And I made it square!"
As if to recall the feeling, he starts turning over the coins with his shovel, airing them, counting them, caressing them. In his own outlandishly rich way, McDuck is still a pick and shovel laborer.
This memorable scene has long been a favorite with Scrooge's fans and his creator. When Barks began paint­ing the ducks in 1971, the money bin was his most popular subject, and one for which he developed a special palette of warm browns and golds in the manner of Rembrandt. Today, with two decades of painting behind him, Barks returns to this theme to render it as a porcelain sculpture. He is assisted in this task by Connoisseur of Malvern, a British studio whose works grace Buckingham Palace and the White House.
Pick and Shovel Laborer measures 11 5/8 " in height and is the third in their series of Carl Barks Figurines, exquisite sculptures presenting the Disney ducks in fine bone china. Barks begins the artistic process by rethinking one of his paintings in three dimensions, sketching it afresh, fleshing and rounding it out. Master sculptors then turn those sketches into clay models that the artist refines and supervises. It's an ar­duous process involving many sketches and much wasted clay and pigment. No easy task to keep that duck looking right from every angle!
The photographs on the following centerspread show that every painstaking step was worth it. Barks' miser has been captured in all his charm, with new design touches bringing the figure to glowing life. Each coin has its own hint of minted face, a stamped shield, eagle, or laurel bough. We can read the print on the sheaf of dollar bills: "City of Duckburg. . .Cool Cash. . .One Hundred Quackers." Barks also designed a rear view for the sculpture, stacking Scrooge's coins to make a logical support for the bulging money sack which is only partly visible in the painting.
And the coins positively glitter! That's pure silver and 24-karat gold fired onto the porcelain. Even the pick and shovel shine; McDuck doesn't let his tools get rusty. But it's Scrooge you notice first. In his broadcloth coat and wire-rim specs, he cuts a classic figure. This is the duck the whole world knows.
Today Barks himself is something of a classic, a pen and pencil laborer grown to cult phenomenon. His oil paintings hang in the homes of a fortunate few, and if one should come onto the market, it would take a healthy chunk of Scrooge's money to buy it. This does not mean that all his creations are beyond reach. With the advent of these figurines, collectors have the chance to acquire their own Barks duck, an original artwork sold in an edition strictly limited to 100 numbered copies. Each is hand-painted, gilded and silvered by master artisans, and bears a gold Barks signature applied just before the final firing. It is then mounted on a custom base of cherrywood, prized for its strength and elegance. An accompanying 32-page customized book, lavishly illustrated, with photographs and art, describes the entire creative process and contains your numbered certificate of authenticity.
As the crowning touch, each sculpture is paired with a full-size, signed lithograph (10 by 8 inches) of the painting that inspired it. The print comes from a preliminary run of 100 copies numbered to match the sculpture, framed in cherrywood, and protected by archival glass-special features available only with this offer.
Pick and Shovel Laborer will never again be produced as a figurine and all studio molds have been destroyed or defaced upon completion of this limited edition. This figurine was licensed to The Bruce Hamilton Company by the Walt Disney Company to be released under the imprint of Another Rainbow, Inc."
PLEASE NOTE: Although the edition was originally limited to 100 pieces…..there are, in actuality, only 62 in existence! (Plus a few Artist's Proofs.) Click on the following link to get the whole story on what happened to the other 38 sculptures!!!
If you are within driving distance, it is preferable to pick this rare item up in person. If shipped, the buyer will pay $25 plus actual shipping costs for special courier service.