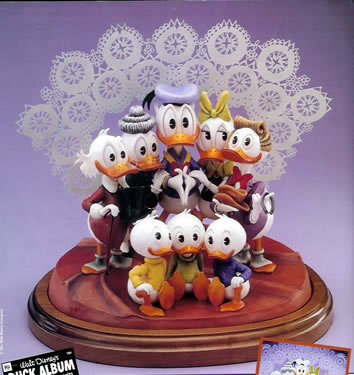 Character images (c) Disney Enterprises, Inc. are provided for infor mation purposes only and not for commercial reuse or reproduction.
You may well agree that Lavender and Old Lace is the most unique and exquisite Carl Barks Porcelain figurine you've ever seen. But this is more to it than you might at first perceive: each figurine, hand-decorated by master artisans and mounted on a custom designed base of cherrywood, is accompanied by a 32-page Certificate of Authenticity. This numbered book is lavishly illustrated with photographs and art, describing the entire creative process. As the crowning touch, each sculpture is paired with a full-size, pre-publication lithograph signed by Barks reproduced from the painting that inspired it. The Lithograph Edition is of only seventeen copies numbered to match the sculpture, framed in fine wood with a complementary matte and liner, a special feature available only with this offer.
Lavender and Old Lace will never again be produced as a figurine and all studio molds have been destroyed or defaced upon completion of this limited edition. This figurine was licensed to The Bruce Hamilton Company by the Walt Disney Company to be released under the imprint of Another Rainbow, Inc."
PLEASE NOTE: Although the edition was originally limited to 25 pieces (plus a few Artist's Proofs) …..there are, in actuality, only 17 in existence!