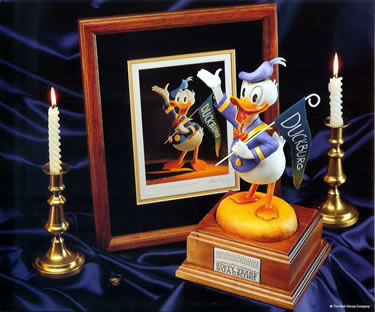 Character images (c) Disney Enterprises, Inc. are provided for infor mation purposes only and not for commercial reuse or reproduction.
Of this unique sculpture released to the public in 1994, Another Rainbow's catalog said:
"In all the world, few cartoon characters are as recognizable as that of perennial everyman, Donald Duck, and no one has more successfully captured that icon than Carl Barks. Now, through Connoisseur of Malvern, a British porcelain figurine studio whose works grace Buckingham Palace and the White House, Barks has brought one of his unparalleled full color renditions of everyone's favorite heroic hothead into gorgeous, meticulously crafted three dimensions with a special Donald Duck 60th Anniversary figurine.
This piece measures 13 ¼" in height and is the latest in our series of Carl Barks Figurines, exquisite sculptures presenting the Disney ducks in world class English bone china. Barks begins the process by rethinking one of his paintings in three dimensions, sketching it afresh from different ang1es, fleshing and rounding it out. Master sculptors then turn those sketches into clay models for final refinements. It's an arduous process involving many sketches and much clay and pigment.
The photos here demonstrate that every painstaking step was well worth it. Barks' Donald has been captured in all his charm, enthusiastically greeting his fans and proudly carrying the pennant of hometown Duckburg. Could any municipality claim a more beloved ambassador?
The elegant simplicity of this image is suited to a celebration of Donald's 60th birthday. The focus is on Donald, who shows that he's as feisty today as he was six decades ago, when he made his debut in the Silly Symphony animated short, "The Wise Little Hen." One can picture Donald leaping out of this pose and straight into one of Barks' comic book adventures.
Barks has proven to be a paragon of longevity. After a full career in comics his attention was turned to painting, a career now into its third decade. His works hang in the homes of a fortunate few. However, with the advent of these figurines, collectors have the chance to acquire their own Barks artwork sold in an edition strictly limited to 100 numbered copies and a few artist's proofs. Each is decorated by master artisans, and, bears an individual gold Barks signature applied just before the final firing. It is then mounted on a custom base of cherrywood. An accompanying 32-page book, lavishly illustrated with photographs and art, describes the entire creative process and contains a numbered certificate of authenticity.
As the crowning touch, each sculpture is paired with a full-size signed 8 7/8" x 6 5/8" image lithograph of the 1975 painting that inspired it. The print comes from a preliminary run of 100 copies number to match the sculpture, framed in cherrywood and matted in Midnight black suede over a pale Sierra gold liner protected by archival glass – special features available only with this offer.
60 Years Quacking will never again be produced as a figurine and all studio molds have been destroyed or defaced upon completion of this limited edition. This figurine was licensed to The Bruce Hamilton Company by the Walt Disney Company to be released under the imprint of Another Rainbow, Inc."
PLEASE NOTE: Although the edition was originally limited to 100 pieces.....there are, in actuality, only 44 in existence! Click on the following link to get the whole story on what happened to the other 56 sculptures!!! (There were also 3 Artist's Proofs created.)
If you are within driving distance, it is preferable to pick this rare item up in person. If shipped, the buyer will pay $25 plus actual shipping costs for special courier service.