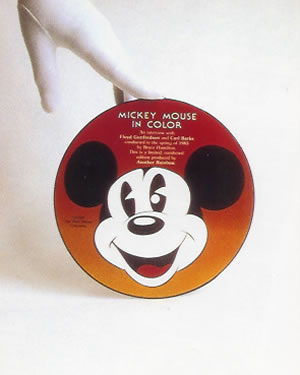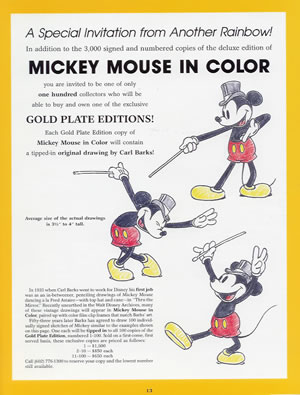 Character images (c) Disney Enterprises, Inc. are provided for infor mation purposes only and not for commercial reuse or reproduction.
Six Years in the Making!
The Deluxe Edition of Mickey Mouse in Color is strictly limited to 3100 copies, hand signed by both Floyd Gottfredson and Carl Barks! This oversize, hardbound book measures a huge 12 ½" x 16 ½", contains 248 pages (216 of which are in full color), and is over-sewn for lasting strength. The front and back covers are decorated with die-cut foil stamps and four-color silk-screened art. A Mylar dust jacket is include for add protection
Floyd Gottfredson
72 pages are devoted to the Mickey Mouse Sunday page by Floyd Gottfredson, the definitive Mickey Mouse artist. . These strips, from 1932-1936, are all reproduced their full, original published size in color using the original color proofs as guides. Included are many sig­nificant gag pages and the following four adventures:
-"Rumplewatt the Giant" from 1934.
-"Dr. Oofgay's Secret Serum" from 1934.
-"The Case of the Vanishing Coats" (also starring Donald Duck) from 1935.
-"The Robin Hood Adventure" from 1936.
An additional 72 pages feature Mickey Mouse daily strips by Floyd Gottfredson. All strips reproduced their full original published size with magnificent color added using subtle color schemes devised by Mike McCormick and painted by Olyoptics. The daily strips make up the following four complete adventures:
-"Blaggard Castle" from 1932.
- "Pluto and the Dogcatcher" from 1933.
-The Mail Pilot" from 1933
- "The Phantom Blot" from 1939-the most famous Mickey Mouse adventure of all time.
Carl Barks
Although primarily known as the Duck Man, Carl Barks also tried his hand at Mickey Mouse, especially in the early days of his Disney career. Mickey Mouse In Color collects his most significant Mouse work.
-Two detailed Mickey Mouse drawings Barks submitted as samples to the Disney Studios in the mid-1930s.
-"Northwest Mounted" - 32 pages of color storyboards done by Barks in 1936 for an unproduced cartoon.
-Actual animation drawings by Barks used in the Mickey Mouse cartoon "Through the Mirror."
-"Riddle of the Red Hat:' the only Mickey Mouse comic book story ever done by Barks, never before reprinted.
Articles and Special Features
Rounding out the book are special articles and interviews with the creators, all lavishly illustrated with rare draw­ings, photographs, and published art. Included are:
An in-depth look at the Mickey Mouse strip by Disney historian Thomas Andrae.
An interview with Floyd Gottfredson conducted by Walt Disney Archivist David Smith.
An interview with both Gottfredson and Carl Barks, in which they reveal many facts for the first time, con­ducted by Another Rainbow Publisher Bruce Hamilton.
Bonus Picture - Disc Record
Bound into all copies of the deluxe edition of Mickey Mouse In Color is a unique 7-inch record, numbered to match each book, featuring a portion of Bruce Hamilton's conversation with Floyd Gottfredson and Carl Barks in which the two creators reveal an interesting fact about their favorite stories. This is not a cheap flexi-disc but a solid picture-disc with a full-color head of Mickey Mouse under clear vinyl on one side and a full-color photo of Barks and Gottfredson under clear vinyl on the other.
GOLD PLATE EDITIONS:
In addition to the 3,000 signed and numbered copies of the deluxe edition of Mickey Mouse in Color, there are only 100 Gold Plate editions which contain an original drawing by Carl Barks!
In 1935 when Carl Barks went to work for Disney, his first job was as an in-betweener, penciling drawings of Mickey Mouse dancing a la Fred Astaire - with top hat and cane - in "Thru the Mirror." Unearthed in the Disney Archives in the last 1980s, many of these vintage drawing will appear in Mickey Mouse in Color, paired up with color film clip frames that match Barks' art.
Fifty-three years later Barks agreed to draw 100 individually signed sketches of Mickey (Average size of the actual drawings is 3 1/2" to 4" tall). One each will be contained in all 100 copies of the Gold Plate Edtion, numbered 1-100.
Trade Edition: The 9" x 11" trade hardback edition features the 8 rip-roaring comic strip adventures by Floyd Gottredson, reporoduced comic book size in full, dazzling color. Included are special features on Gottfredson and Mickey Mouse, featuring and interview with Gottfredson and an index of Mickey's complete comic strip adventures. These are not numbered or signed. A very limited number of these are available at $49.00 $39.95
***PRICES REDUCED TO ORIGINAL 1989 PRICES!!!***